This page introduces the inventory screen in S.T.A.L.K.E.R.: Shadow of Chernobyl. Click a part of the image below for specific information about that area - only areas of interest are described though.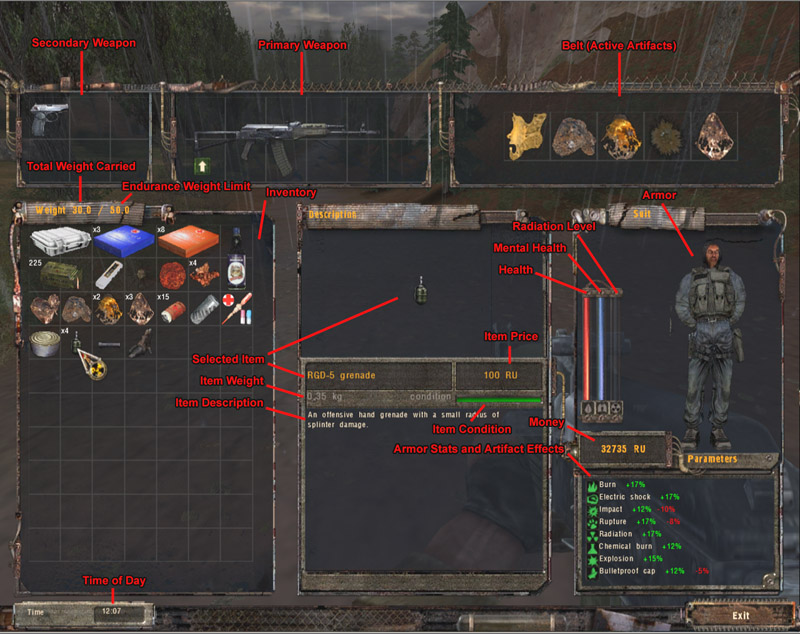 Burn: This is the protection against burn damage which is caused by fires (such as the Burner anomaly).


Bulletproof cap: This is the protection against bullets.


Chemical burn: Protection against chemical burns. I believe only the Fruit Punch anomaly causes this type of damage.


Explosion: Protection against explosions caused by grenades and exploding barrels.


Electric shock: Protection against electrocution which is only caused by the Electro anomaly.


Impact: Protection against impact damage - this type of damage is caused by falling and being hit by thrown objects.


Radiation: Protection against radiation.


Rupture: Protection against melee damage such as bite and claw attacks by animals and mutants.

Artifacts page. this page. this page. this page. Controller. I believe you'll die if this meter is completely depleted. Exoskeleton and the Tourist Suit allows you to carry more weight.