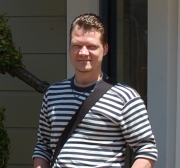 Yours truly.

My name is Thomas, I'm 34 37 years old and I live in Copenhagen, Denmark. I have a Masters degree in Computer Science and my personal interests include programming, music, movies, playing the guitar, and of course playing computer games... oh yeah, and girls too. Unfortunately, I don't come upon them too often, and when I do my shyness tends to take over.

I have been playing computer games basically since I got my first Commodore Vic 20 back in the early 80's. After that I moved onto the Commodore 64, the Commodore Amiga and eventually my first PC - an incredible 40 MHz 386 DX with a stunning 8 MB of RAM and a wicked 40 MB HD. Those were the days

. I've never really been into consoles, I have never owned one unless you consider the now ancient Videopac a console.
I used to have a huge interest in real-time strategy games but that has diminished over time. I did really enjoy playing the Warcraft series and Starcraft. I haven't really looked much into newer RTS games mainly because they interest me less these days.
Another genre that I am a big fan of is roleplaying games - there are too many good RPG's to mention, but I have had an excellent time playing eg. Diablo, Never Winter Nights, Dungeon Siege, and Star Wars: Knights of the Old Republic.
After my fourth run through the game I must admit I am loving it... I think the game just keeps growing on me; perhaps my first anticipations were focused on alot of things I thought would be in the game, rather than actually looking at what was in the game. Sure the game has it's problems, bugs, and what-not, but looking beyond these things (which may also get ironed out by future patches) I really, really like it - I love the atmosphere, the AI (and A-Life), and the fact that the game is less linear than most first person shooters. I am also fond on the fact that weapons are somewhat inaccurate meaning that you don't just automatically hit what is in your crosshair (or iron sight); if you have played eg. Star Wars: Dark Forces you'll probably remember how you would be able to snipe accurately with a blaster pistol at enemies located at the opposite side of the level.

Please notice, that if you wish to contact me be sure to include something in the subject line that I will be able to spot - eg. "STALKER Site" or "About STALKER"... I guess something including "STALKER" or "S.T.A.L.K.E.R." (or possibly "Are you Strelok?"

) will do. Otherwise I might not notice it because of my spam filter.